Three weeks ago, I published my first entry on my Regen Newsletter called "Becoming a Web3 Regenerative Instigator". It was about my idea of shaping my career as a Web3 Regenerative Instigator, which is a fancy way to say that I want to focus on helping impact driven projects being built with web3 technologies, specifically NFTs and DAOs.
This is an update on that Journey.
Choosing Celo as my HQ
My path forward is already taking shape. With my upcoming role as Celo's Ambassador for Peru, for example, I will be helping new builders and creators deploy their ideas on the mission driven Blockchain that Celo is. After all, is the main reason why I joined their Ambassador Program: No other blockchain has gathered so many regens as Celo, if you ask me.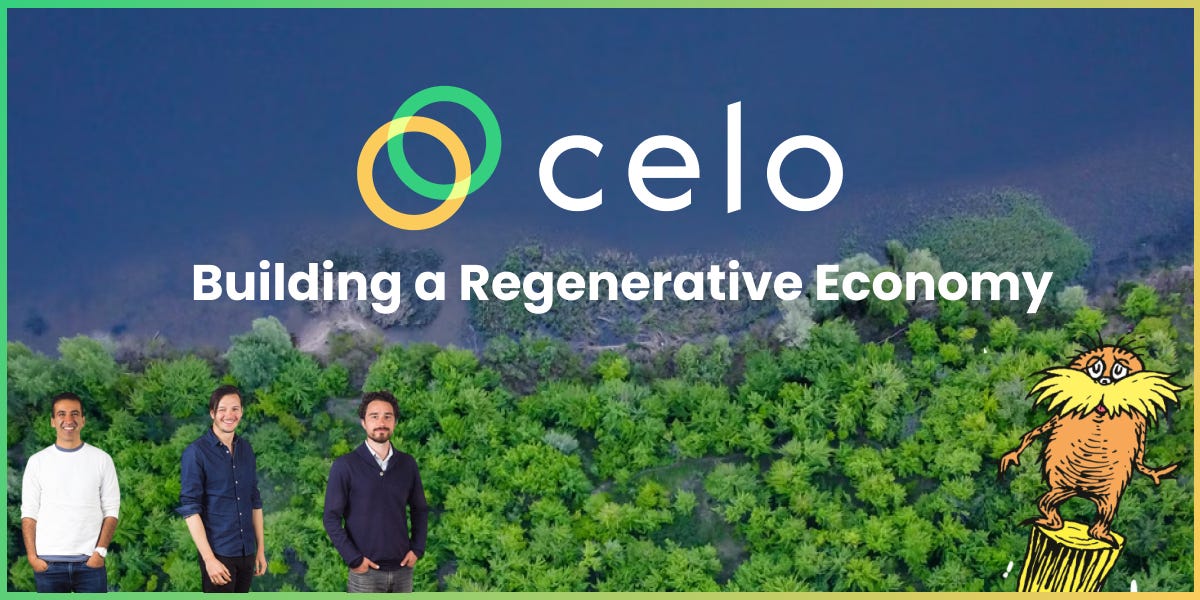 This article published in Not Boring by Patrick McCormick is the best in depth intro to Celo and its mission of making money beautiful with a Regenerative Economy. As we enter ReFi Summer, make sure to take a look at what Celo is building!
On a side note, I also have my personal token on Celo, deployed using Talent Protocol. On the following weeks, I'll be reaching to other Regen talent to join the Protocol and have their own tokens launched on Celo. Would you like to be one of them? DM me on Twitter!
Creating Learning Communities for Regens in Web3
I'm also creating a Decentralized University for Latinos, mostly built in Spanish. Composed of multiple learning DAOs and Communities of Practice, the idea is to build a DAO of DAOs so we can share resources, talent and opportunities for people exploring web3 as a tool of creation. A new Regen Community will be made public in the following days, as part of that Decentralized University. Regen Latam started as a Telegram group, and was shared with other regens in the region so we can share what we are building and figuring out how we can help each other out scale impact across Latinoamérica.
Culture and Storytelling meet Impact
And last, but definitely not least, we have launched Metasuyo's Genesis NFT a little over a week ago, even if it was as a glimpse to what's to come and a pitch to members across the peruvian community. Metasuyo will build cultural brands inspired in the prehispanic civilizations that existed across the Tahuantinsuyo Nation, the land of the Incas. These cultural brands will be launched as Storytelling NFTs. The products and experiences we develop are going to create impact through their value chains, including members of the native communities whose ancestors' stories are the ones fueling the imagination of our own.
Writing NFTs and the Future for Creators
As an entrepreneur, I consider myself a creator. And as someone who loves to write, it's impossible for me to ignore the incredible opportunities web3 enable for the Creator Economy.
Take a look at the upper corner of this post. You will see that you can collect this entry as an NFT on Optimism! This is a Layer 2 that has extremely cheap gas fees for every transaction you make, including minting this post as an NFT! These are known as Writing NFTs, a new concept introduced by Mirror, the platform that you are using right now to read this post.
And because web3 is composable and easily interoperable, if you collect any of these NFTs and you send me a screenshot of it on my DMs on Twitter, I will send you 10 $LOV, my own personal token on Celo! These will allow you to take part on the community votes I will make in regards to the future of my Regen Newsletter, available on Snapshot. If you are lost on what any of this means, or on how to take any of these steps, don't worry, I'll help you if you send me a DM on Twitter!
Path of the Regen Guardian
Blockchain, Learning, Culture. These are the three main areas I want to focus on as a Regen Guardian. The goal is to become an instigator for new projects to emerge, and a Guardian for the ones that do succeed in crafting a clear vision and building their first steps.
I believe web3 represents the biggest opportunity we have at reorganizing our society so we can heal all of the damage we have done to our planet and to each other. We are on time, if we bring hope back and build with scale and impact in mind.
The future can be better, but we will need more Regens to build it. And those Regens will need Guardians to guide them. Which one would you become?