Author(s): FINE | FINE#8385
Editor(s): zerohash | Tet#7609
Last updated: 19th April 2022
---
What is Gitcoin?
Gitcoin is a blockchain-based platform to connect and work together on open-source software for projects, independent builders, and funders. It has funded notable projects including Uniswap, 1Inch, Yearn Finance, and more. It was founded by Scott Moore, Kevin Owocki, and Vivek Singh in November 2017.
Key features of Gitcoin
Earn: Help develop public goods by offering bounties to those who work on open source projects, organize hackathons and other fundraisers sponsored by some of the most innovative Web3 organizations, or start a new initiative to help solve some of humanity's most pressing coordination problems.
Learn: Help build and shape the blockchain industry by participating in hackathons, workshops and roundtable discussions hosted by the experts of the industry. Or, if you're looking for a more hands-on approach to learning material, why not do what some of our finest minds do and prepare yourself as one of them would? Find them, network with them, and study under their wing. That's right. They are offering a Kernel fellowship program so that you too can become a blockchain Kernel.
Connect: Join the next generation of web developers as you connect and build with top open source developers in the space. Find peers who compliment your skillset and team up to take on bounties and hackathons. Or join their 8 week Kernel fellowship program online where they mentor, guide and support each other through hands-on training while engaging in weekly meet-ups and workshops!
Funding: Fund the open web and shape its future. Choose the projects and technology you believe are most vital to the health of this world, and contribute to them directly during quarterly Gitcoin Grants rounds which use quadratic funding.
How do Gitcoin Grants work?
It starts with a Grant page, a pool of funds, and a community of contributors.
Grants begin with a page for your project and a pool of matching funds. Using the power of quadratic funding, donors will signal their support for grantees and democratically decide where the matching funds should go.
If you're a grantee, one of the important things to note is that the number and amount of each contribution to your project influences the total amount allocated to you. If you're a contributor, even a small contribution can have a huge impact on the amount of matching funding a grantee gets .This is the power of quadratic funding.
For example:
Traditional matchingGrant 1 gets $100.Grant 2 gets $100.At the end of the round, both grants get $100 in matching.
Gitcoin quadratic matchingGrant 1 gets $100 from 1 funder.Grant 2 gets $100 from 10 funders.At the end of the round, Grant 1 gets $10 in matching, Grant 2 gets $190 in matching.
See how a number of small contributions can have a huge impact on the total amount of matching funding a grantee gets!
Gitcoin Grants is really all about communities coming together to help fund and signal support for public goods.
How to create a Grant?
1. Select Create an Grant
2. Fill out the form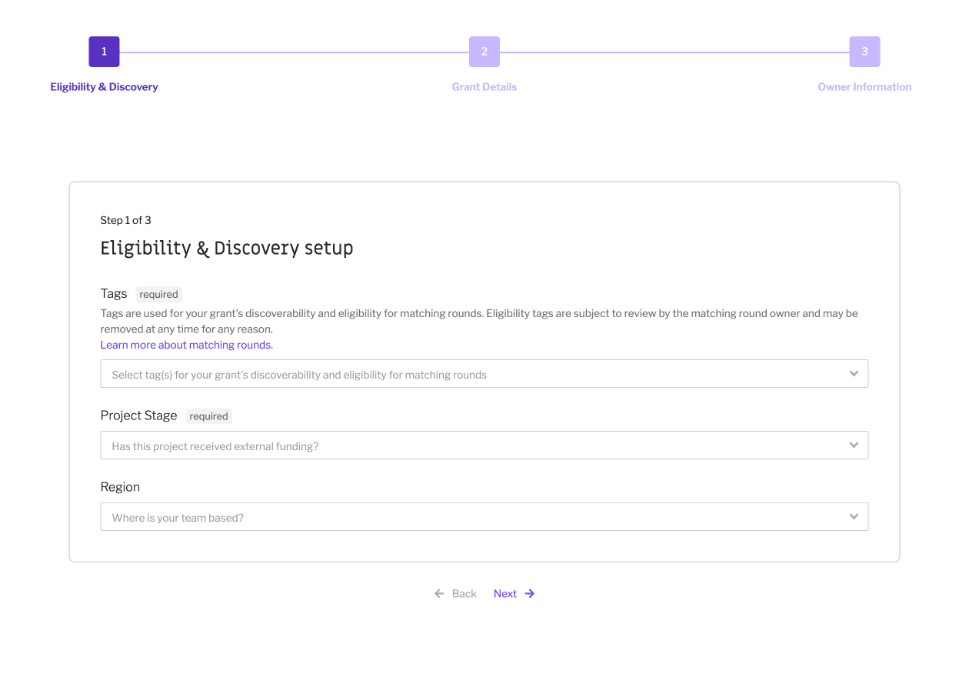 Fill in the eligibility details.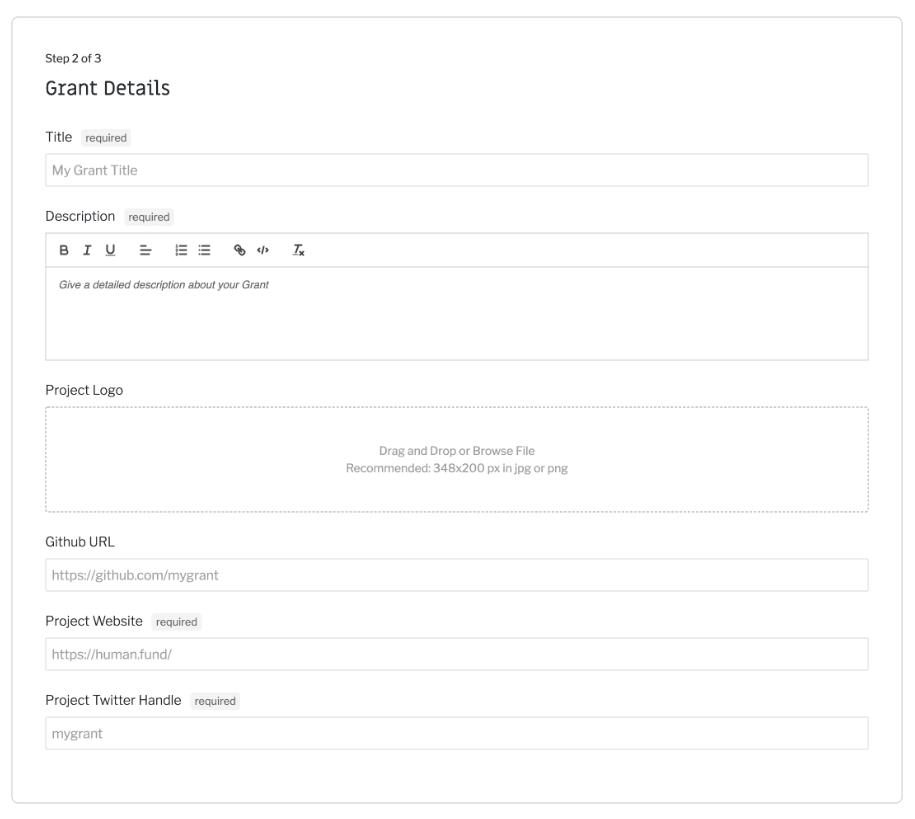 Fill in the grant details.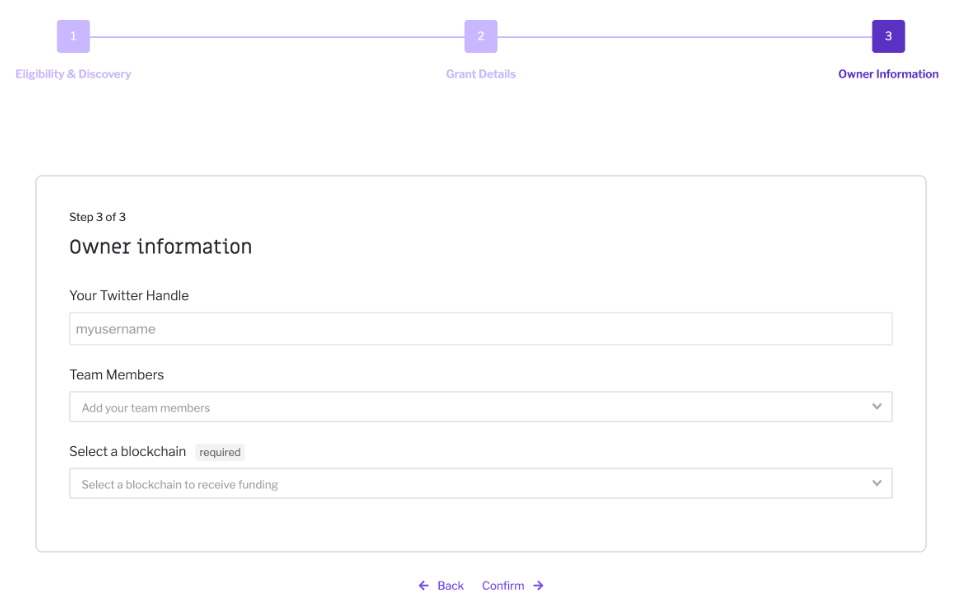 Fill in the grant ownership information.
3. Click Confirm. Grant will be live after a review.
Fund your GitHub issue
1. Create a Github Issue (you'll need the issue URL)
2. Fill out the form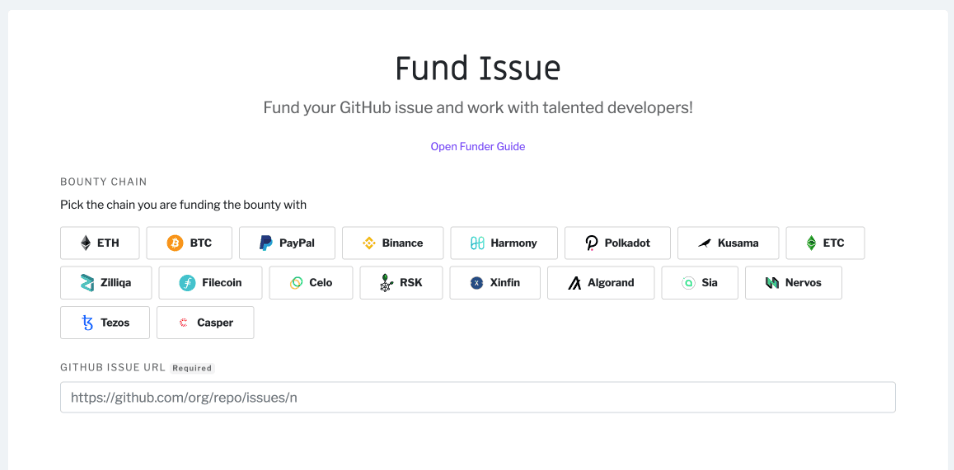 Choose the source of funding for your bounty.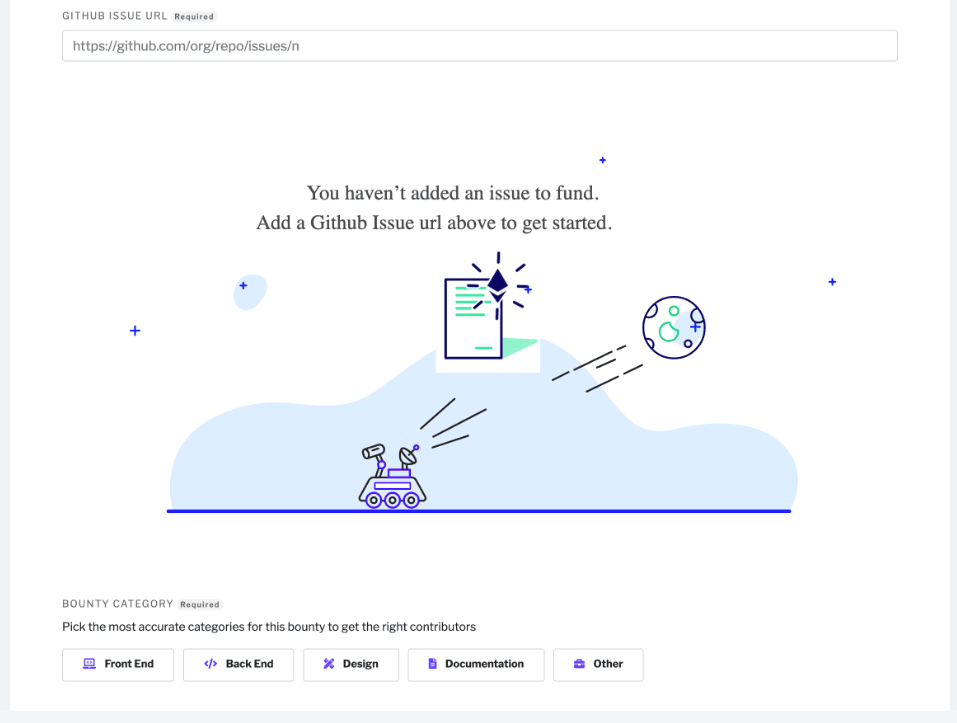 Input the appropriate Issue URL.
3. Select the type of issue to fund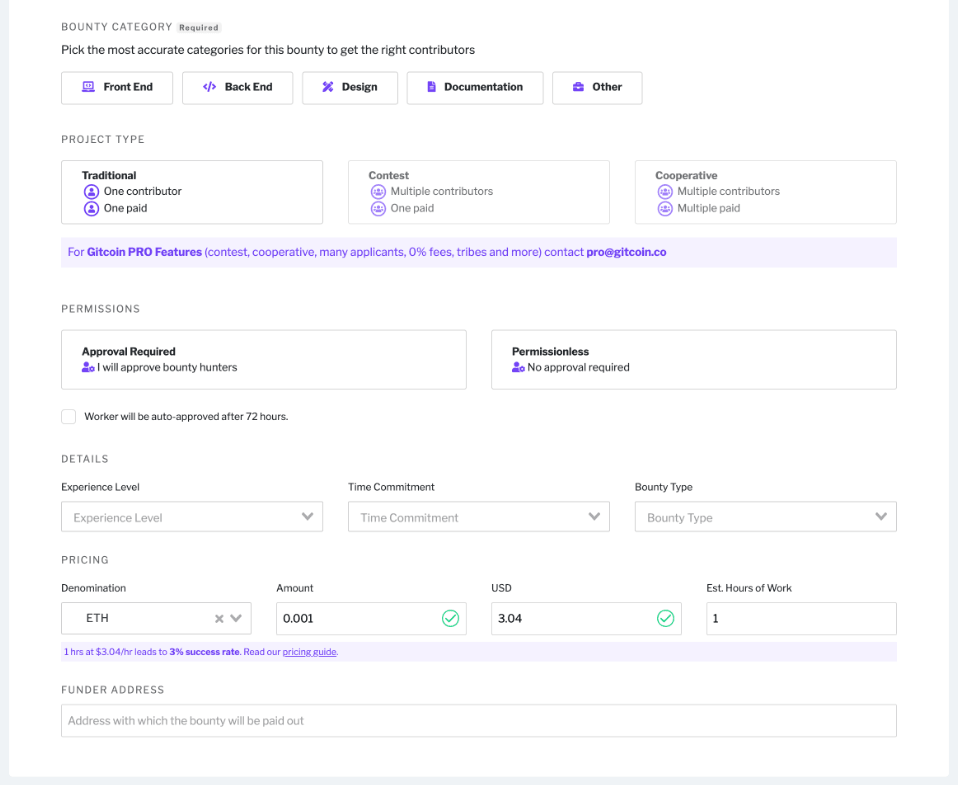 Fill in the relevant bounty information.
4. Complete the form and press Fund Issue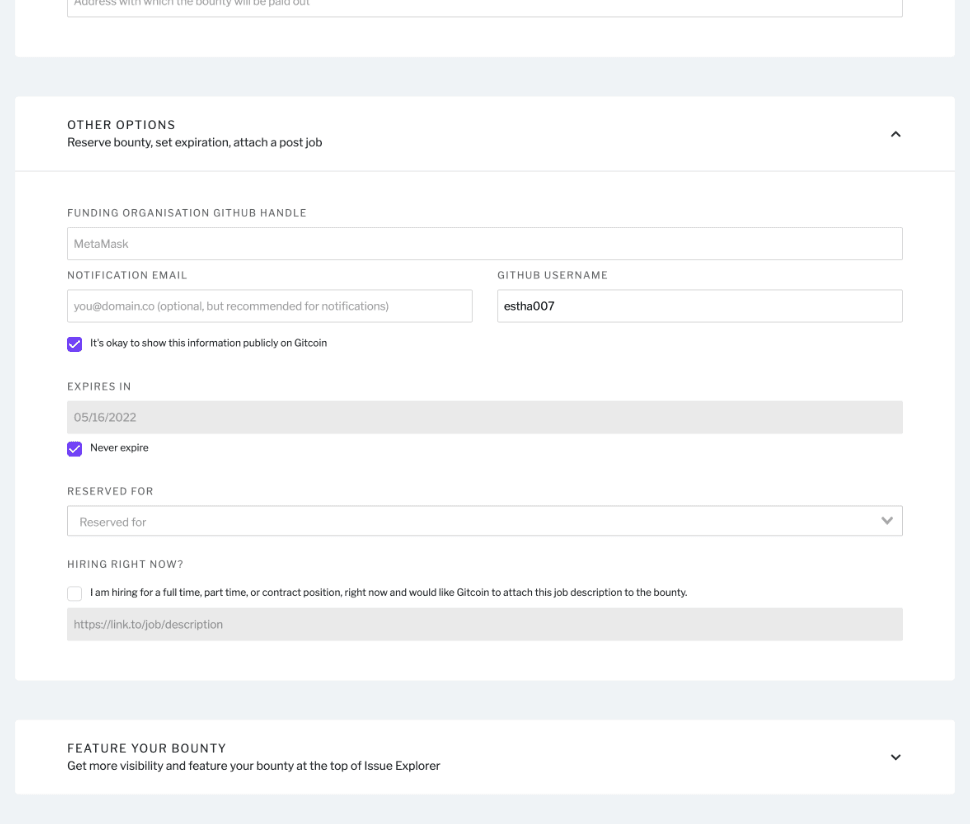 Input any other relevant information.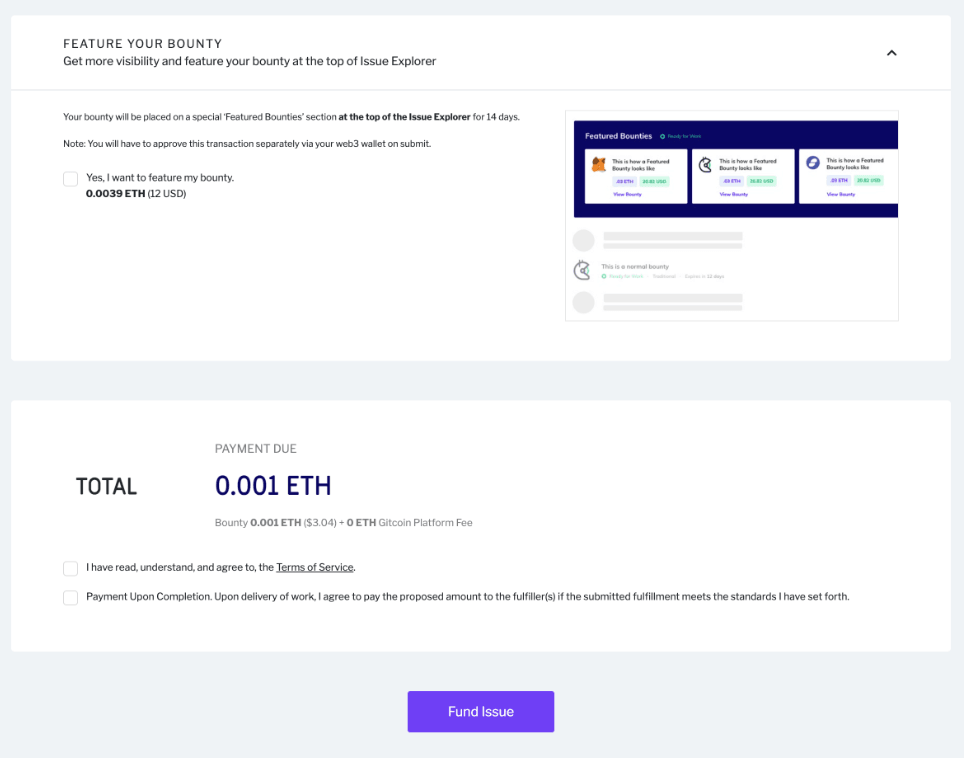 You can also advertise your bounty for an extra cost of 12 USD.
5. Confirm the transaction in your web3 wallet
Once confirmed on blockchain, your bounty is posted to Gitcoin! Wait for developers across the world to discover your bounty and start working on your issue.
How does the Hackathon work?
1. Check out the Prizes
Try picking interesting prizes to work on.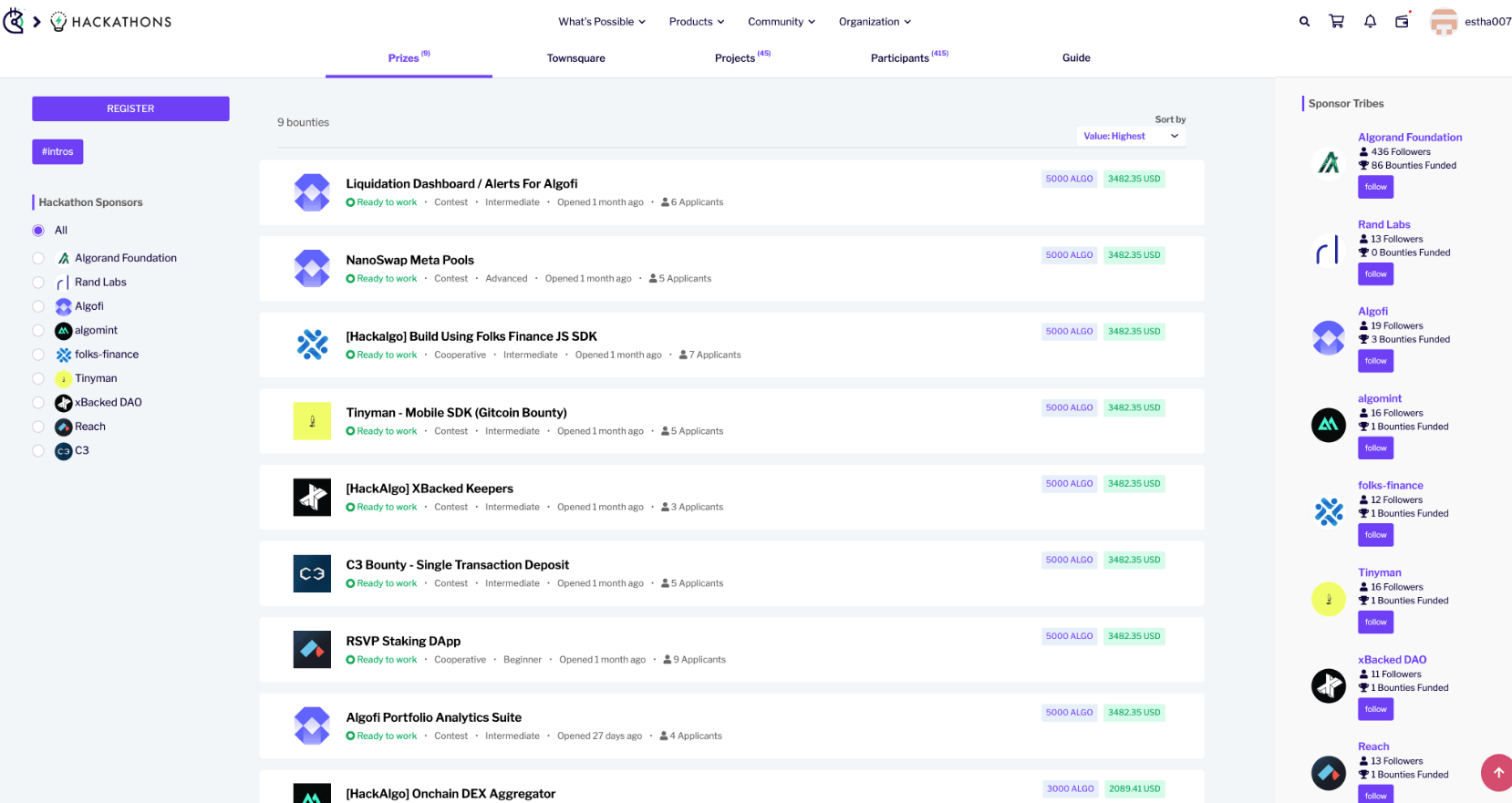 Skim through Gitcoin's list of active hackathons.
2. Join the Hackathons Chat Workspace
Join the Hackathons Chat Workspace. Chat with other hackers and find or create a team in one place. Get advice, guidance and support from individuals and sponsors alike.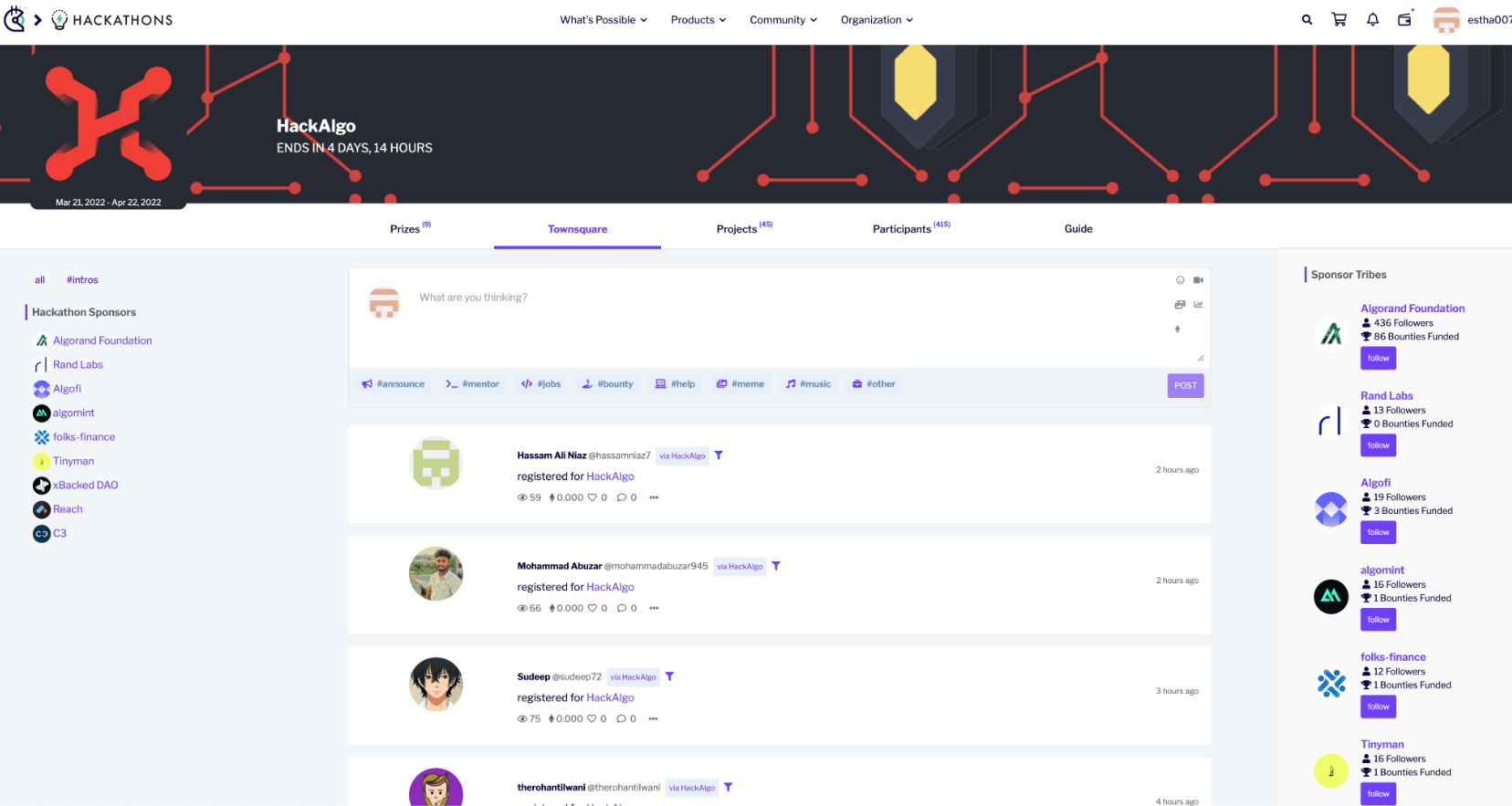 Jump in to have a chat.
3. Start Work via Gitcoin
Now that you've got your team of engineers, start work today by visiting every GitHub bounty page on Gitcoin and click the "Start Work" button on bounties you are willing to work on.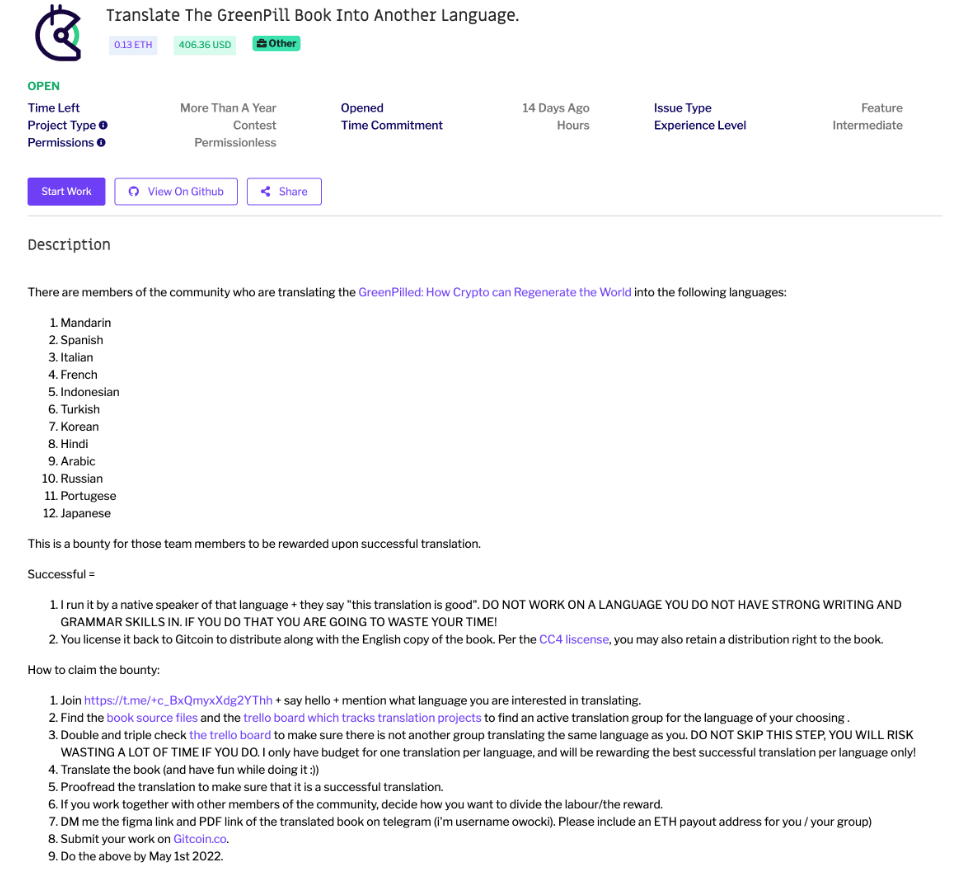 Choose a project and get working.
4. BUIDL!
Realize your idea into a living prototype with finely-tuned features!
5. Submit Work via Gitcoin
When your project is complete, make sure that you're ready to submit it. Make sure that, if you are using a Dropbox folder, it has been saved. When the project is completely uploaded, click the "Submit Work" button and wait for confirmation of the submission.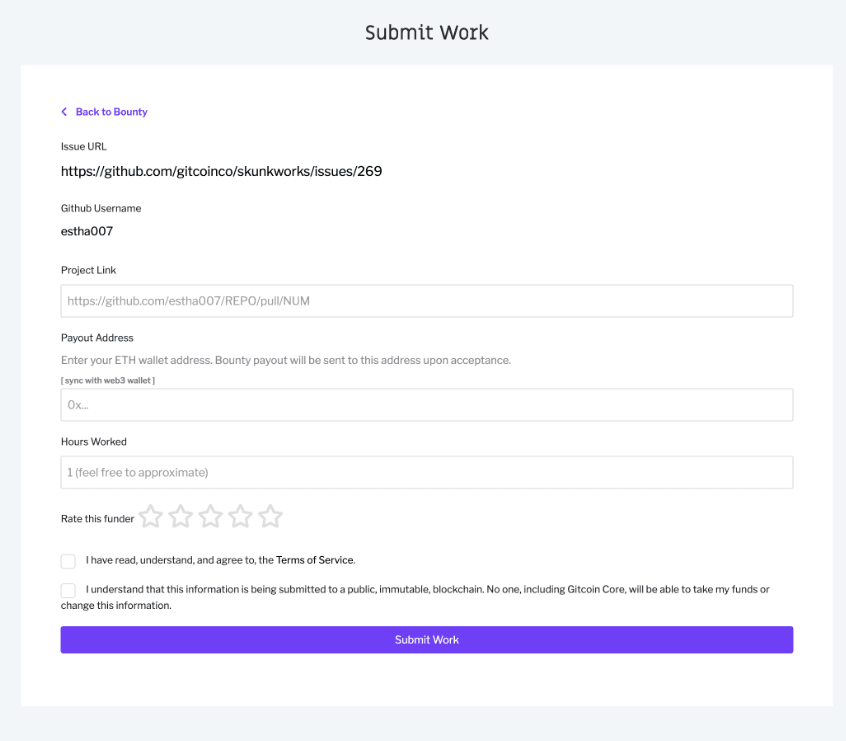 Submit your details to receive compensation.
How to Earn in bounties?
1. Select a bounty

Select an appropriate bounty.
2. Check the description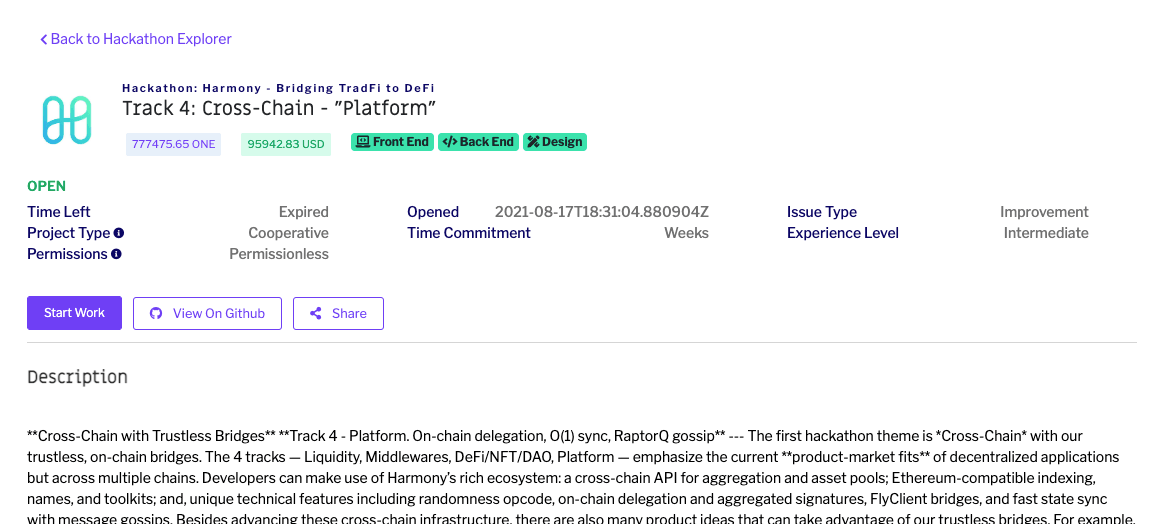 Check out the bounty description.
3. Click Start Work
4. Submit a Plan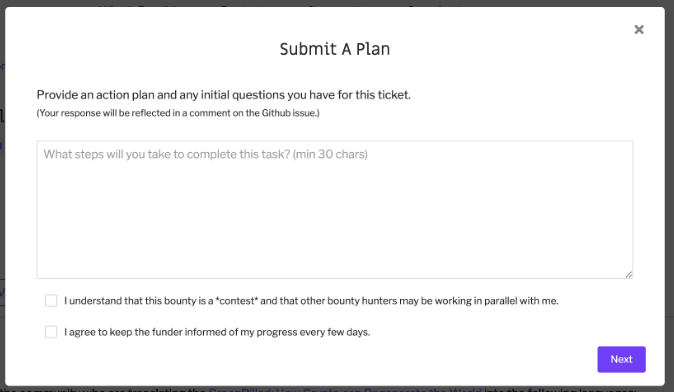 Submit an action plan for the bounty.
5. Submit Work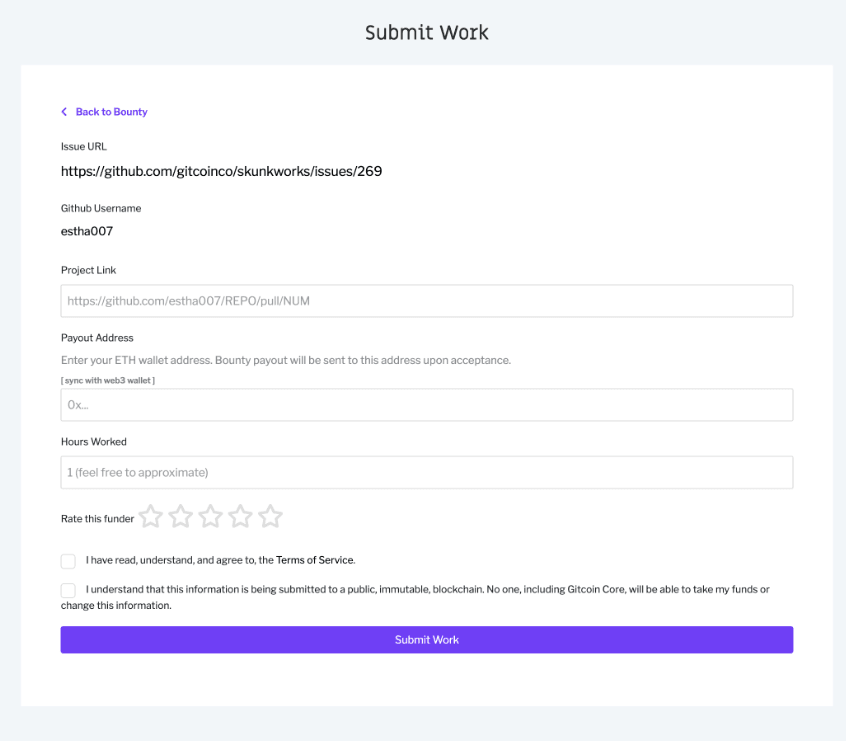 Submit your details to receive compensation.
6. Earn
Summary
There's so much that can be done to improve the digital world, and that's exactly why Gitcoin is here. With more than 311,668 active developers coming from every part of the world wide web, Gitcoin has everything you need to do whatever you'd like while getting funded by like-minded people. So what are you waiting for? Check out their Github page now!